RENNtech is always on the cutting edge of Mercedes-Benz and Mercedes-AMG power upgrades and the Hand-Held Tuning Module is their latest and greatest invention!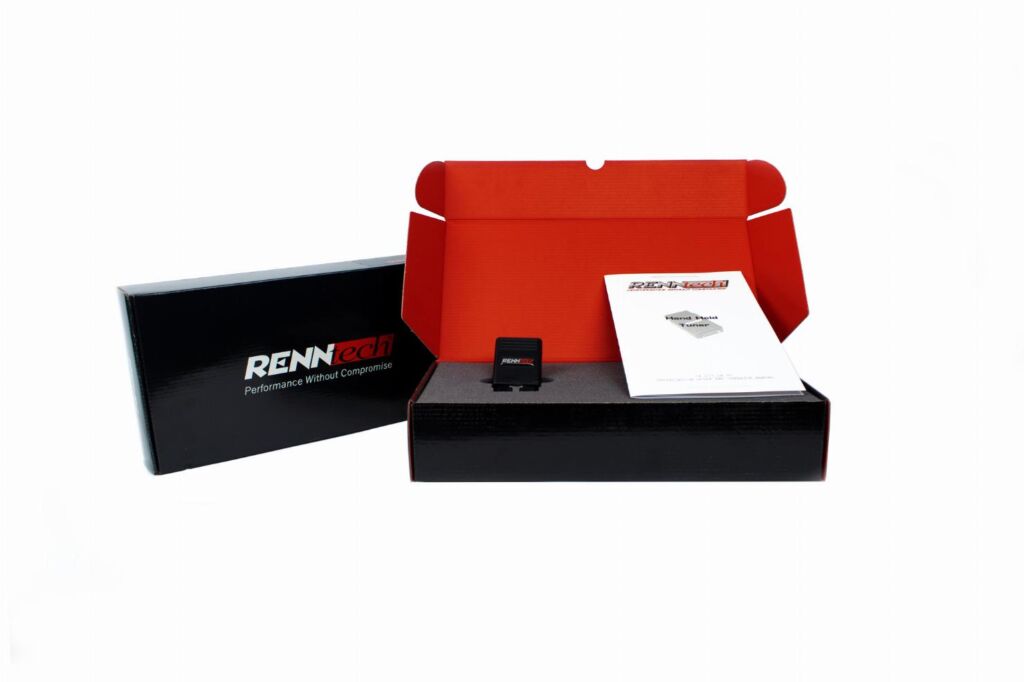 "The RENNtech Hand-Held Tuning Module creates significant gains in horsepower and torque across the vehicle's entire power band. By modifying ignition timing and throttle mapping, optimizing air-to-fuel ratios and modifying boost mapping for turbo-charged vehicles, RENNtech performance software unleashes the true potential of your Mercedes. RENNtech HHT allows you the unlimited ability to switch between TUNED or STOCK ECU programming without ECU removal!
Our proprietary tuning module stores both the RENNtech TUNED file and your vehicles STOCK firmware file. The module plugs directly into the OBD2 port and delivers the file directly to the ECU. The vehicle can be re-flashed any time and as many times as you wish."
The additional HP and TQ provided by the HHT vary based on the model of Mercedes but here are some examples:
2009+ C63 AMG with M156 6.2L V8 | Gains up to +66HP & +52TQ
2016+ C43 AMG with M276 3.0L V6 BiTurbo | Gains up to +41 HP and +62 LB-FT
2013+ G63 AMG with M157 5.5L V8 BiTurbo | Gains up to +99HP & +60TQ
2018+ E63 AMG with M177 4.0L V8 BiTurbo | Gains up to +82 HP & +84 LB-FT
The HHT is available for a wide range of Mercedes-Benz vehicles with V8 and BiTurbo engines – see full compatibility list below or if you are unsure if your vehicle is supported by the HHT please contact information@tunerworks.com  In many cases the HHT can be programmed to take advantage of different fuel octane levels, which in the case of Calgary and area gas stations means choosing between 91 and 94 octane Premium fuel. Vehicles that are not compatible with the HHT can still take advantage of RENNtech's famous ECU software upgrades in many different stages – contact Tunerworks for more information.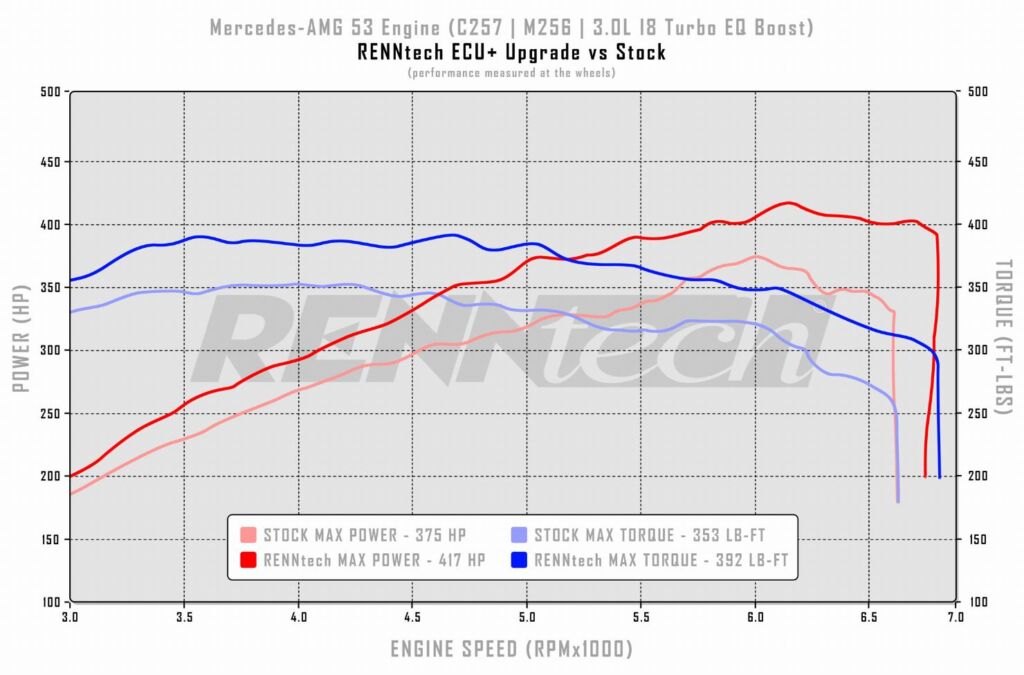 As a RENNtech Preferred Dealer Tunerworks can perform same-day HHT ECU upgrades at our facility or ship pre-load HHTs to customers anywhere in Canada.
Tech info:
*The HHT module plugs directly into the OBD2 port and delivers the performance RENNtech tune to the ECU
*Once the download is completed remove HHT and place in the glove compartment for future use
* The HHT has the ability to switch between tuned and stock ECU programming if needed
The RENNtech Hand-Held Tuning Module application list:
CLK-Class

500 | M113 | 5.5L V8 Naturally Aspirated

C209 – CLK 500 | MY 04-10

55 AMG | M113 | 5.5L V8 Naturally Aspirated

C209 – CLK 55 AMG | MY 04-10

55 AMG | M113 | 5.5L V8 Kompressor
63 AMG | M156 | 6.3L V8 Naturally Aspirated
63 AMG Black Series | M156 | 6.3L V8 Naturally Aspirated

C209 – CLK63 AMG Black Series

C-Class

400 | M276 | 3.0L V6 BiTurbo

W205 – C 400 | MY 15+
C205 – C 400 | MY 15+
S205 – C 400 | MY 15+

32 AMG | M112 | 3.2L V6 Kompressor

W203 – C 32 AMG | MY 01-07

450 AMG Sport | M276 | 3.0L V6 BiTurbo

W205 – C 450 AMG Sport Sedan | MY 15
C205 – C 450 AMG Sport Coupe | MY 15
S205 – C 450 AMG Sport Wagon | MY 15

43 AMG | M276 | 3.0L V6 BiTurbo

W205 – C 43 AMG Sedan | MY 16+
C205 – C 43 AMG Coupe | MY 16+
S205 – C 43 AMG Wagon | MY 16+

55 AMG | M113 | 5.5L V8 Naturally Aspirated

W203 – C 55 AMG | MY 01-07

63 AMG | M156 | 6.3L V8 Naturally Aspirated
63 AMG Black Series | M156 | 6.3L V8 Naturally Aspirated

W204 – C63 AMG Black Series

63 AMG | M177 | 4.0L V8 BiTurbo Twin-Scroll

W205 – C 63 AMG Sedan | MY 15+
W205 – C 63 S AMG Sedan | MY 15+
C205 – C 63 AMG Coupe | MY 15+
C205 – C 63 S AMG Coupe | MY 15+

E-Class

400 | M276 | 3.0L V6 BiTurbo

W212 – E 400 | MY 13-14
W212 – E 400 | MY 15

450 | M276 | 3.0L V6 BiTurbo

W213 – E 450 Sedan | MY 16+
S213 – E 450 Wagon | MY 16+
C238 – E 450 Coupe | MY 16+

500 | M113 | 5.5L V8 Naturally Aspirated

W211 – E 500 Sedan | MY 03-09

550 | M278 | 4.7L V8 BiTurbo

W212 – E 550 Sedan | MY 12-13
S212 – E 550 Wagon | MY 12-13
C207 – E 550 Coupe | MY 12-13
W212 – E 550 Sedan | MY 14-18
S212 – E 550 Wagon | MY 14-18
C207 – E 550 Coupe | MY 14-18

43 AMG | M276 | 3.0L V6 BiTurbo

W213 – E 43 AMG Sedan | MY 15+
S213 – E 43 AMG Wagon | MY 15+

55 AMG | M113 | 5.5L V8 Kompressor

W211 – E 55 AMG | MY 03-09

63 AMG | M156 | 6.3L V8 Naturally Aspirated

211 – E63 AMG
212 – E63 AMG | MY 10-11

63 AMG | M157 | 5.5L V8 BiTurbo

W212 – E 63 AMG Sedan | MY 12-13
W212 – E 63 S AMG Sedan | MY 12-13
S212 – E 63 AMG Wagon | MY 12-13
S212 – E 63 S AMG Wagon | MY 12-13
W212 – E 63 AMG Sedan | MY 14-18
W212 – E 63 S AMG Sedan | MY 14-18
S212 – E 63 AMG Wagon | MY 14-18
S212 – E 63 S AMG Wagon | MY 14-18

63 AMG | M177 | 4.0L V8 BiTurbo Twin-Scroll

W213 – E 63 AMG 4MATIC+ Sedan | MY 18+
W213 – E 63 S AMG 4MATIC+ Sedan | MY 18+
S213 – E 63 AMG 4MATIC+ Wagon | MY 18+
S213 – E 63 S AMG 4MATIC+ Wagon | MY 18+

CLS-Class

400 | M276 | 3.0L V6 BiTurbo

C218 – CLS 400 | MY 15-17

450 | M276 | 3.0L V6 BiTurbo
500 | M113 | 5.5L V8 Naturally Aspirated

C219 – CLS 500 | MY 05-11

550 | M278 | 4.7L V8 BiTurbo

C218 – CLS 550 Coupe | MY 11-14
C218 – CLS 550 Coupe | MY 15-18

55 AMG | M113 | 5.5L V8 Kompressor

C219 – CLS 55 AMG | MY 05-11

63 AMG | M156 | 6.3L V8 Naturally Aspirated
63 AMG | M157 | 5.5L V8 BiTurbo

C218 – CLS 63 AMG RWD Coupe | MY 11-13
C218 – CLS 63 S AMG RWD Coupe | MY 11-13
C218 – CLS 63 AMG 4MATIC Coupe | MY 14
C218 – CLS 63 S AMG 4MATIC Coupe | MY 14
C218 – CLS 63 AMG 4MATIC Coupe | MY 15-18
C218 – CLS 63 S AMG 4MATIC Coupe | MY 15-18

CL-Class

500 | M113 | 5.5L V8 Naturally Aspirated
55 AMG | M113 | 5.5L V8 Naturally Aspirated

C215 – CL 55 AMG | MY 01-06

55 AMG | M113 | 5.5L V8 Kompressor

C215 – CL 55 AMG | MY 01-06

63 AMG | M156 | 6.3L V8 Naturally Aspirated

C216 – CL63 AMG | MY 07-10

63 AMG | M157 | 5.5L V8 BiTurbo

C216 – CL 63 AMG Coupe | MY 11-13

S-Class

450 | M276 | 3.0L V6 BiTurbo
500 | M113 | 5.5L V8 Naturally Aspirated
55 AMG | M113 | 5.5L V8 Naturally Aspirated

W220 – S 55 AMG | MY 99-06

55 AMG | M113 | 5.5L V8 Kompressor

W220 – S 55 AMG | MY 99-06

63 AMG | M156 | 6.3L V8 Naturally Aspirated

W221 – S63 AMG | MY 07-10

63 AMG | M157 | 5.5L V8 BiTurbo

W221 – S 63 AMG Sedan | MY 11-13
W222 – S 63 AMG Sedan | MY 14-17
C217 – S 63 AMG Coupe | MY 14-17

63 AMG | M177 | 4.0L V8 BiTurbo Twin-Scroll

W222 – S 63 AMG 4MATIC+ Sedan | MY 18+
C217 – S 63 AMG 4MATIC+ Coupe | MY 18+

SLK-Class

32 AMG | M112 | 3.2L V6 Kompressor

R170 – SLK 32 AMG | MY 97-03

55 AMG | M113 | 5.5L V8 Naturally Aspirated

R171 – SLK 55 AMG | MY 04-10

SL-Class

400 | M276 | 3.0L V6 BiTurbo
450 | M276 | 3.0L V6 BiTurbo
500 | M113 | 5.5L V8 Naturally Aspirated
55 AMG | M113 | 5.5L V8 Kompressor

R230 – SL 55 AMG | MY 03-06

63 AMG | M156 | 6.3L V8 Naturally Aspirated
63 AMG | M157 | 5.5L V8 BiTurbo

R231 – SL 63 AMG | MY 13-16
R231 – SL 63 AMG | MY 17-present

SLR McLaren
SLS AMG

197 – SLS AMG
197 – SLS AMG GT
197 – SLS AMG Black Series

AMG GT

AMG GT

C190 – AMG GT Coupe | MY 16-17
C190 – AMG GT Coupe | MY 18+
R190 – AMG GT Roadster | MY 18+

AMG GT S

C190 – AMG GT S Coupe | MY 15-17
C190 – AMG GT S Coupe | MY 18+

AMG GT C

C190 – AMG GT C Coupe | MY 18+
R190 – AMG GT C Roadster | MY 18+
C190 – AMG GT C Coupe Edition 50 | MY 18
R190 – AMG GT C Roadster Edition 50 | MY 18

AMG GT R

C190 – AMG GT R Coupe | MY 18+

AMG GT 4-Door Coupe

63 AMG | M177 | 4.0L V8 BiTurbo Twin-Scroll

C290 – AMG GT 63 4MATIC+ 4-Door Coupe
C290 – AMG GT 63 S 4MATIC+ 4-Door Coupe

GLC-Class

43 AMG | M276 | 3.0L V6 BiTurbo

X253 – GLC 43 AMG SUV | MY 16+
C253 – GLC 43 AMG Coupe | MY 16+

63 AMG | M177 | 4.0L V8 BiTurbo Twin-Scroll

X253 – GLC 63 AMG SUV | MY 16+
X253 – GLC 63 S AMG SUV | MY 16+
C253 – GLC 63 AMG Coupe | MY 16+
C253 – GLC 63 S AMG Coupe | MY 16+

ML/GLE-Class

450 | M276 | 3.0L V6 BiTurbo

W166 – GLE 450 SUV | MY 16+

43 AMG | M276 | 3.0L V6 BiTurbo

W166 – GLE 43 AMG SUV | MY 16+
X292 – GLE 43 AMG Coupe | MY 16+

63 AMG | M156 | 6.3L V8 Naturally Aspirated
63 AMG | M157 | 5.5L V8 BiTurbo

W166 – ML 63 AMG SUV | MY 12-15
W166 – ML 63 S AMG SUV | MY 12-15
W166 – GLE 63 AMG SUV | MY 16+
W166 – GLE 63 S AMG SUV | MY 16+
X292 – GLE 63 AMG Coupe | MY 16+
X292 – GLE 63 S AMG Coupe | MY 16+

GL/GLS-Class

450 | M276 | 3.0L V6 BiTurbo

X166 – GLS 450 SUV | MY 16+

63 AMG | M157 | 5.5L V8 BiTurbo

X166 – GL 63 AMG | MY 12-15
X166 – GLS 63 AMG | MY 16-present

G-Wagon

500 | M113 | 5.5L V8 Naturally Aspirated
55 AMG | M113 | 5.5L V8 Kompressor
63 AMG | M157 | 5.5L V8 BiTurbo

W463 – G 63 AMG | MY 16-present

63 AMG | M177 | 4.0L V8 BiTurbo Twin-Scroll